2019 Adelante Promotores Conference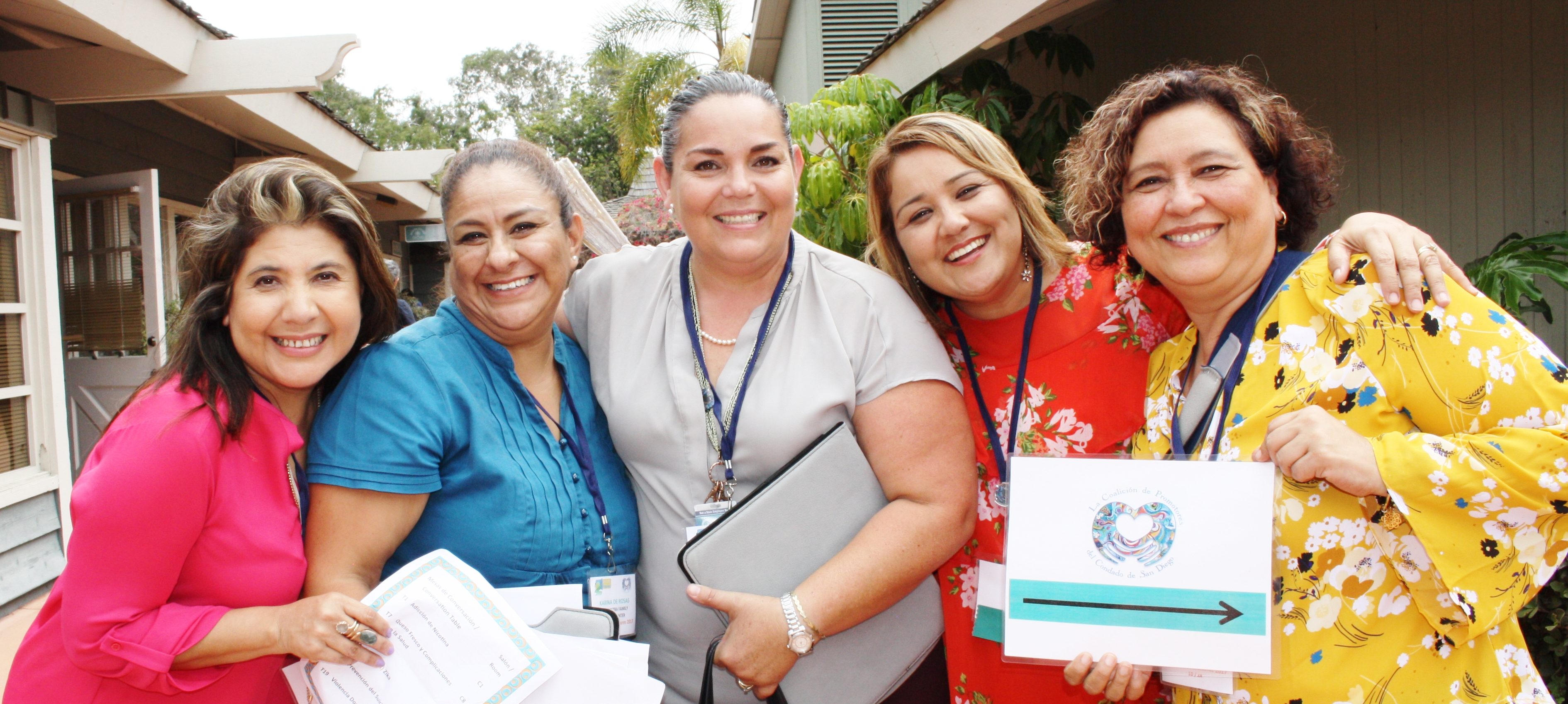 2019 Adelante Promotores Conference
"United for Healthy Communities"
August 23, 2019
8:00am – 4:30pm
Marina Village Conference Center, Captain's Room
Countdown to Adelante Promotores Conference!
About the Theme
Healthy communities are a core aim of the San Diego County Promotores Coalition. Healthy communities are those with the expertise and knowledge to access health services and resources creating a community conducive to health. This year's conference focuses on the unification of Promotores and Community Health Workers (CHWs) in creating and maintaining healthy communities. How do we create healthy communities? Invest in Promotores and CHWs. Promotores and CHWs are effective in educating and linking community members to health resources and services. To create healthy communities we must create health systems that look beyond the clinic, reach individuals where they are in a way that is culturally competent to overcome barriers preventing communities from reaching their full health potential.
Purpose
Celebrate the work of Promotores/CHWs

Recognize outstanding Promotores/CHWs in San Diego

Improve the professional skills of Promotores/CHWs

Improve the personal skills of Promotores/CHWs (to manage the impact of their work on personal life)

Increase the knowledge of Promotores/CHWs on health related information 
Registration opens May 2019!
Sponsor Information – Forms Due July 1, 2019
Why Sponsor
Reach over 200 Promotores, Community Health Workers and other community leaders
Support the progress and recognition of community efforts towards health equity and healthy communities
Receive recognition for supporting the health of our San Diego communities
Sponsor Types
PLATINUM SPONSOR ($5,000.00+)
Recognition plaque presented on stage
Logo on back of program
Logo and recognition in program and on website
Place banner at event
1/2 page ad in program*
Logo on flyers
GOLD SPONSOR ($3,000.00+)
Logo on back of program
Logo and recognition in program and on website
Logo on flyers
1/4 page ad in event program*
SILVER SPONSOR ($2,000.00+)
Logo on back of program
Logo and recognition in program
Logo on flyers
BRONZE SPONSOR ($1,500.00+)
Logo and recognition in program
PARTNERSHIP SPONSOR ($500.00+)
*Ads are optional. Spanish and English versions of ads are required. Programs are 8"x11" pages. Ads due by July 31, 2019.
Guidelines for Submission
Submit via e-mail to Margarita Holguin at Margarita.holguin@cvesd.org
Attach high resolution logo with transparent background with email
Submissions should be received no later than July 1, 2019
Email confirmation to be sent within five business days
Additional Information
For additional information contact Margarita Holguin at Margarita.holguin@cvesd.org
Facilitate a Workshop – Proposals Due May 1, 2019
About the Workshops
The Adelante Promotores Conference has three types of workshops: 1) Professional Development, 2) Health-related Topics and 3) Personal Development. Both professional and personal development workshop sessions are one and a half hours (90 minutes). The Health-related Topic workshop session is one hour (60 minutes.) The professional development session educates and updates Promotores on core roles and skills. Refer to the C3 report pages 37-40 for more details. Health-related Topic session focuses on increasing the knowledge of Promotores on relevant health-related topics to their San Diego communities, such as mental health, nutrition, chronic diseases, and others. Finally, the personal development session is aimed at developing capacity and skills of Promotores to deal with the needs of their Promotor work.
When submitting a workshop proposal, keep in mind that the audience of the Adelante Promotores Conference is largely Latinx and prefer Spanish workshops. However, many are bilingual and some are monolingual English speakers. Workshops with captivating titles and descriptions are better attended relative to those with generic content. Lastly, interactive, discussion based workshops are encouraged and well received by the attendees.
What to Expect
Over 200 Promotores/Community Health Workers from across San Diego (Including some from various parts of California, Imperial Valley, Arizona and Mexico)
Quick set up, no more than 10-15 minutes
Workshops have an average of 26 attendees (range from 55-8)
Interactive proposals are preferred
Anticipate questions, allow time for Q&A
Attendees will ask for copies of presentations
Tips for Successful Workshops
Captivating title and description
Interactive, discussion based format
Topics important to San Diego Communities
Skills relevant to Promotores and CHWs
Submission Guidlines
Submit all of the above documents via e-mail to hledesma@vcc.org
When submitting a proposal for a workshop session, please refer to "What To Submit" section on this application form.
Submissions should be received by close of business, May 1, 2019
Confirmation of proposal submission will be sent by email within five days. If a confirmation email is not received, please contact hledesma@vcc.org
Additional Information
For additional information, please contact Herminia Ledesma at (760) 631-5000 ext. 7206 or at hledesma@vcc.org.