Awards
San Diego County Promotores Coalition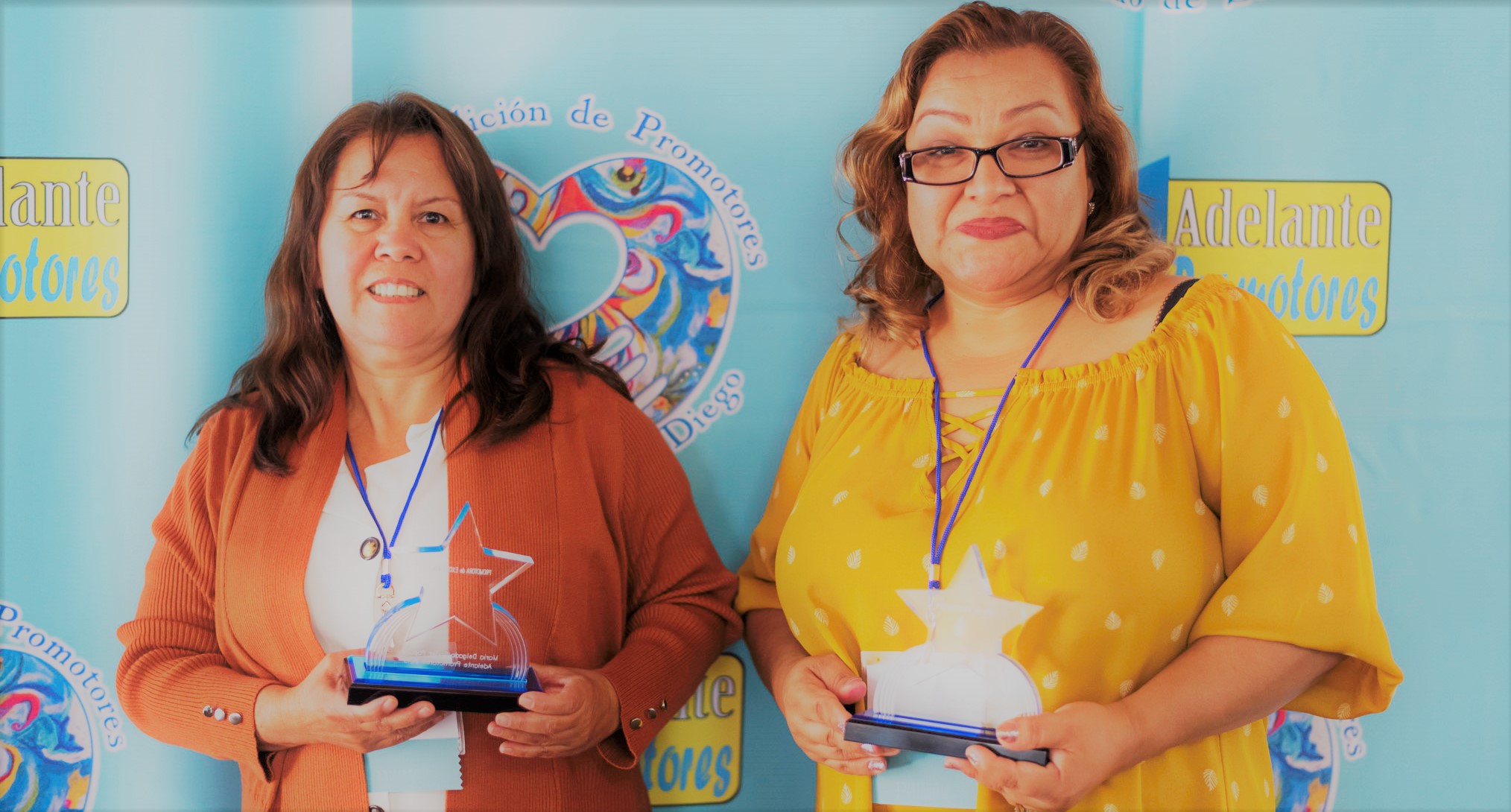 *Please note that due to the unusual circumstances surrounding this year's conference, individual promotora awards will not be given. Thank you for your interest.*
An objective of the 2020 Adelante Promotores Awards is to recognize and appreciate the important work of the Promotores and encourage their participation in education and prevention programs and services in the community. These awards recognize outstanding Promotores who have positively impacted their community. Winners will be awarded at the Adelante Promotores Annual Conference on Friday, August 14, 2020. Please know nominees must be present to receive the award.
Nomination Categories
1. Promotor(a) of the Year
The Promotor(a) of the Year award recognizes an experienced Promotor(a) who has demonstrated extensive involvement in the projects and initiatives that improve the health and wellbeing of families and has demonstrated a continuous commitment to working on community capacity building. The nominee must have at least 5 years experience working as a Promotor(a).
2. Promotor(a) of Excellence
The Promotor(a) of Excellence award recognizes an individual who had an exceptional performance and a significant contribution to the community. A Promotor(a) who has gone above and beyond job expectations and who through their dedication and passion positively affected the success of the project and the community.
Eligibility
To be considered for the awards, the nominee must be currently employed or affiliated as a Promotor(a) with and agency or organization as an employee or volunteer.
The nominee must be registered and attend the Conference on August 23, 2019.
Nominations may be made by any individual, group or organization. Self-nominations will not be accepted.
To be considered nominations must be received by the deadline July 1, 2019.
Evaluations
The Adelante Promotores Conference Planning Committee serve as the evaluation committee. The committee will review and score all nominations base on established evaluation criteria.
Evaluation Criteria
Awards will be presented to individuals who through tangible actions and commitments have impacted the health and wellness of their community.
To corroborate the impact the nominee has had over the course of his/her career, please provide specific examples as appropriate.
Promotor(a) of the Year – For this nomination, the nominee is required to have at least five years of work (paid or volunteer) as a Promotor(a).
Nomination for either awards requires responses to the following prompts: (maximum 1-2 pages)
Describe the work or project the Promotor(a) is involved.
Describe how the Promotor(a) is involved in the community.
Provide example of projects, level of responsibility and the role of the nominee.
Describe how the Promotor(a) demonstrated leadership and commitment to the community.
Tell us what impact has the Promotor(a) in the community.
Why does the Promotor(a) deserve this award?
Please provide any other information you think is important.
Deadlines
Submission Deadline: July 1, 2020
Nominees must be registered to attend the conference by July 1, 2020
Nominees will be notified (will only be notified of nomination): July 12, 2020
Awards given at the Adelante Promotores Annual Conference August 14, 2020
Nomination Form
Please make sure that the person you are nominating meets all the requirements
Provide all requested information, make sure the name and address of the nominee is complete
Please complete the nomination form and return it by July 1, 2020